1. I'm embarrassed to admit that I missed most of the developments in modern rock from roughly mid-1994 until about late 1998, for reasons which will shortly become apparent. I'm currently in the process of trying to catch up on that period, which is also coinciding with my re-discovery of Sonic Youth. I had followed the band avidly through high school and up through
Dirty
, but after that I kind of lost track until Lips dropped their very good
Rather Ripped
on me a couple years back.
At any rate, I recently bought another copy of
Daydream Nation
to replace the cassette that had long since disappeared into the ether, and that has set me off on a mini-SY binge that has ultimately led me to 1995's
Washing Machine
. My question to you (or at least those of you who are Sonic Youth aficionados) is why the fuck haven't you repeatedly been telling me that this is a must-own album? The dissonant experimentalism crossed with a songcraft and, well,
warmth
has made it damn near impossible for me not to dial it up daily. I'll put it this way -
Washing Machine
just replaced
Daydream Nation
in the CD changer. And you
know
that says something.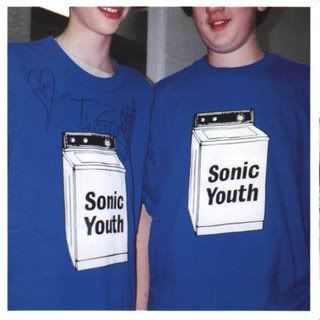 2. The reason I missed out on the mid-90s musically was due to my obsession with Phish and Phish-related music. In retrospect, it's not something with which I'm particularly proud. These days, it's hard for me to get excited about them. Their studio albums are famously blasé, and even the copious live recordings I've managed to acquire over the years have lost their ability to convey the "you had to have been there" vibe of a Phish show.
The one exception to that has been my meh audience recording of the December 30, 1997 show at Madison Square Garden which I've thrown on from time to time. From beginning to end, the show crackles with the quintessential energy that propelled the best shows the band performed. From the surprise opener of Robert Palmer's "Sneakin' Sally thru the Alley" to an epically funky "AC/DC Bag" kicking off the second set to the scorching half-hour encore, the show is a gem. These days, I don't typically recommend any Phish recordings to anyone unless they ask. But now that they've released a
dank
soundboard/audience matrix
of this show in their Live Phish series, I'm saying that if there's one piece of Phish to own, this is the one.